26 Beautiful Islands in Asia to Add to Your Bucket List 2024
From pristine beaches and crystal clear waters to beautiful forests and hiking scenery, Asia is blessed with some of the most stunning paradise islands on Earth.
Away from the hustle and bustle of the big cities, the Asian islands are the perfect answer for those looking for world class diving, uninhabited islands and astonishing views.
However, with so many beautiful islands in Asia to choose from it's hard to decide where your next island getaway should be.
So I asked a team of travel experts to share their travel tips and recommendations for the most beautiful islands in Asia. Here's what they said.
This article may contain affiliate links. If you purchase through these links, I may earn a small commission at no additional cost to yourself. This helps towards the upkeep of this website for which I am grateful.
---
Best Asian Islands
1. Palawan, Philippines
It's highly likely that the stunningly beautiful photos you've seen of the Philippines are of the gorgeous and popular island of Palawan.
Palawan's landscape is made up of rugged charcoal coloured cliffs, clear cerulean waters, and lush verdant jungles.
Puerto Princesa is the arrival point into Palawan due to its port and airport, but don't leave too soon, as there are plenty of day trips available from there.
The Honda Bay island hopping tour is a must, and includes a boat ride to some beautiful islands including one with starfish covering the ocean floor!
From Puerto Princesa you can also visit the UNESCO and New 7 Wonders of Nature, Underground River, where you can combine a boat trip through one of the longest caves in the world, with a firefly watching tour.
El Nido is one of the most popular destinations in Palawan, and is best explored on an island snorkel trip.
It is a Philippine backpacker paradise, with jagged islands and some of the world's most incredible beaches.
The most popular time of year to visit the beautiful paradise of Palawan is during dry season from December to May, but if you want to visit without the crowds, the shoulder months of June and November are better.
Submitted by Nina from WhereInTheWorldIsNina.com
---
2. Phu Quoc, Vietnam
Phu Quoc is one of the best places to visit in Vietnam.
It is perfect for those who love white sand beaches, upscale resorts, water sports, and diving.
This idyllic island off the west coast of Vietnam, looks like it should be part of Cambodia, but is actually owned by Vietnam.
Phu Quoc can be reached by plane, easily and affordably from Ho Chi Minh City or Hanoi.
Phu Quoc is popular because of its stunning beaches like Sao Beach and Long Beach, which are both great for swimming and snorkelling.
Phu Quoc is also a mecca for seafood lovers so a trip to Dinh Cau Night Market can't be missed.
Pull up a stool and sample some tasty seafood in a laid-back environment. Whilst in this area, make sure you visit Dinh Cau Rock Temple.
A part shrine part lighthouse, which provides amazing photo opportunities and scenic views along the coastline.
Phu Quoc has two distinct seasons – warm and dry season from November to May and rainy season from July to September.
Temperatures are hottest between March and June so most travellers choose to visit between November and March.
However, if you prefer to visit when its quieter the shoulder seasons will also be kinder on your travel budget.
Submitted by Ivan from MindTheTravel.com
---
3. Yakushima Island, Japan
A paradise for nature lovers and outdoor enthusiasts alike, the small mountainous island of Yakushima is located south of Kyushu in Japan.
The island can be reached from Kagoshima via one of three different daily Yakushima ferry services.
It is also possible to fly to the island, but not during the monsoon season in June.
The island has plenty of hiking trails that weave through the ancient forested interior.
The cedar forests are home to some of Japan's (and the world's) oldest trees, such as Jomon Sugi – thought to be 7,000 years old!
Yakushima is also great for water sports such as kayaking and diving, and there are plenty of onsens (hot springs) and waterfalls dotted around the island just waiting to be explored.
On top of that, if you visit between May and August, you may see turtles descending on the beaches to lay their eggs!
If you want a little comfort, the JR Hotel offers stunning sea views and has its own onsen.
Submitted by Steve Rohan from TheTripGoesOn.com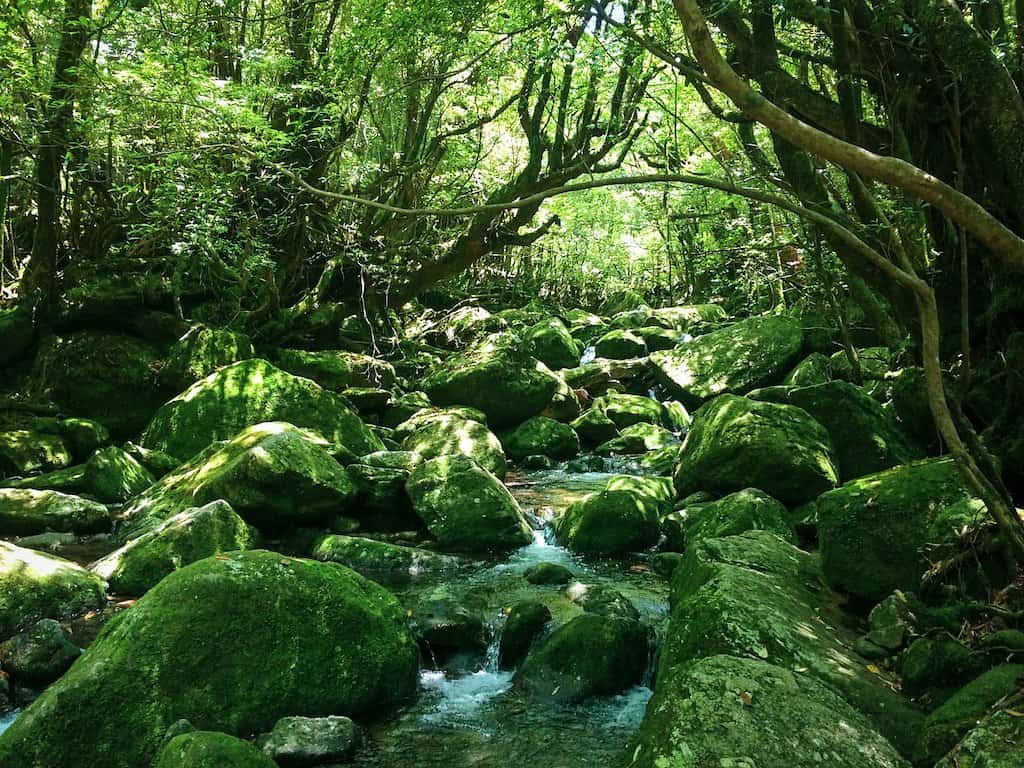 ---
4. Nusa Penida, Indonesia
A beautiful island in Asia is Nusa Penida.
Located 30 minutes by speedboat off the mainland of Bali, Nusa Penida is the largest and most popular of the three Nusa Islands (the other two are Lembongan and Ceningan).
If you love gorgeous views, fewer crowds, and endless beaches, then Nusa Penida is the perfect Asian island for you.
It's best to spend at least two days on Nusa Penida, exploring the various beaches such as Kelingking Beach, a photogenic spot with an aerial view of a staggering green cliff coming out of the blue ocean.
Other recommended beaches with stunning landscapes on Nusa Penida are Angel's Billabong, Broken Beach, Crystal Bay, and Diamond Beach.
If you prefer to see temples, two well-known ones are Goa Giri Putra Temple and Car Temple, which is next to Kelingking Beach.
Indonesia's rainy season occurs from October to April, but Nusa Penida is a fabulous spot to visit all year round, as rain showers don't last long.
Depending on your budget, there are plenty of options for places to stay in Nusa Penida, including guest houses for $25 USD/night and higher-end resorts or bungalows for $80/night and up.
Submitted by Jackie Szeto and Justin Huynh from LifeOfDoing.com
---
5. Koh Mook, Thailand
The small idyllic island of Koh Mook (also spelt Ko Muk or Koh Muk) is surrounded by the Andaman Sea in the South of Thailand.
Most of the island is a designated national park, ensuring the jungle landscape stays in tact.
Koh Mook is car free, but small enough to easily get around on foot, bike or scooter.
The island can be reached by boat from Koh Lanta, where you will get a view of the coastline lined with palm trees, gigantic cliffs and beautiful paradise beaches.
Koh Mook's top attraction, Emerald Cave, is located on the west coast of the island.
It is an 80 meter long, pitch black cave that you can swim through to reach an emerald green lagoon accompanied by a powdery white sand beach.
This spot alone makes Koh Mook one of the best hidden gem islands in Asia!
Sivalai Beach Resort is one of the best places to stay on Koh Mook, and is located on Sivalai Beach, a stunning cape of palm fringed white sand.
The best time to visit Koh Mook is between mid November and April, when the weather is sunny and dry, so you really get the chance to enjoy one of the best islands in Asia.
Submitted by Martina from PlacesOfJuma.com
---
6. Nusa Ceningan, Indonesia
Nusa Ceningan is a small island situated south of Bali, nestled between it's more well-known neighbours Nusa Lembongan and Nusa Penida.
While the typical Bali vibe is present, the island is much quieter, and has a lot less traffic.
To reach Nusa Ceningan, first head to the Sanur harbour in Bali and catch a 30-minute ferry ride to Nusa Lembongan.
From there, rent a scooter or take a taxi across the yellow bridge to the island.
Once on Nusa Ceningan check into a beachfront resort with panoramic views of the Indian Ocean.
You'll notice straight away that the coastline of the island is lined with laidback beach bars and hammocks in the water, both make an ideal place to watch the sunset and sip on cocktails.
The main draw of the island is the Blue Lagoon.
A uniquely coloured lagoon surrounded by cliffs and rugged rock formations, that make a picture-perfect setting to watch the waves come in.
If surfing is more your thing, then Nusa Ceningan makes a great surf break away from the crowds of Bali. If you love diving, there's a high chance of spotting Manta rays and the rare Mola Mola!
The most popular time of year to visit Nusa Ceningan is during the dry season (May-September) however the rest of the year promises cheaper accommodation and even fewer people.
Submitted by Christin from ChristinTheilig.com
---
7. Caramoan Islands, Philippines
Unspoilt and off the beaten track are the secluded Caramoan Islands, found on the edge of the Camarines Sur in the Bicol region of the Philippines.
They are largely unexplored but are covered in pristine beaches with powdery white sands, spectacular marine life and stunning rock formations.
Stay at the Tugawe Cove Resort, with its spectacular infinity pool, private beach and free use of watersport equipment.
The best way to spend your day is by island hopping from one serene spot to the next. You'll be blown away by the beauty.
Not to mention the fact that apart from a few local fishing families, the islands are deserted, so it's no wonder they've been used to film the hit US TV show 'Survivor'.
Unfortunately, the journey to the Caramoan Islands is far from easy, the recommended route requires an hour long flight from Manila to Legazpi followed by a three hour drive to Sabang Port and a two hour speed boat ride to Caramoan.
However, the inaccessibility of the Caramoan Islands ensure the sandy beaches and turquoise waters remain a secret Filipino paradise.
---
8. Phuket, Thailand
Phuket, is more typically known for its wild nightlife and busy beaches, which is the reason why it's considered the most touristy place in Thailand, and possibly Southeast Asia.
However, it is also home to forgotten beaches like Mai Khao near the Sirinat National Park, which surprisingly is only 15 minutes from the airport.
Mai Khao beach is blessed with golden sands sloping gently into clear and calm waters.
The beach is remarkably clean, which is partly due to the lack of beach huts, umbrellas, shops and stands, keeping Mai Khao a true paradise.
The beach is backed by a dense pine forest which ensures the hotels are tucked away.
The best luxury hotels in the area are Anantara Mai Khao Villas and SALA Phuket Hotel.
However the Holiday Inn Resort and Marriott Resort are also excellent and more affordable choices.
When visiting Mai Khao, it is worth exploring the beautiful Sirinat National Park, and heading to the Soi Dog Foundation.
If you have the opportunity, also take a boat ride to the nearby islands or head to the Phuket Elephant Sanctuary.
The best time of year to visit Phuket and the Thai Islands in the Andaman Sea is between November and April when visitors are blessed with endless days of sunny blue skies and low levels of rainfall.
Submitted by Claire Stokes from StokedToTravel.com
---
9. Raja Ampat, Indonesia
Of the tens of thousands of islands that make up Indonesia, the Raja Ampat Islands are some of the most magnificent in the country.
Located off the western tip of New Guinea, the Raja Ampat islands are covered in tropical green jungles and surrounded by brilliant blue waters.
Although remote, sparsely populated, and still relatively undiscovered by tourists, Raja Ampat is one of Indonesia's most idyllic destinations.
The main reason people visit Raja Ampat is for its world famous diving.
Over 75% of the world's coral species can be found in the waters surrounding Raja Ampat as well as large pelagic life such as sharks, rays, and turtles.
To make the most out of your trip to Raja Ampat you should stay on a liveaboard dive boat.
Raja Ampat islands have so many incredible dive sites spread out over a large distance, so a liveaboard boat is perfect for those who want to dive in as many different areas as possible and really explore one of the most famous islands in Asia.
Submitted by Oksana & Max from DrinkTeaTravel.com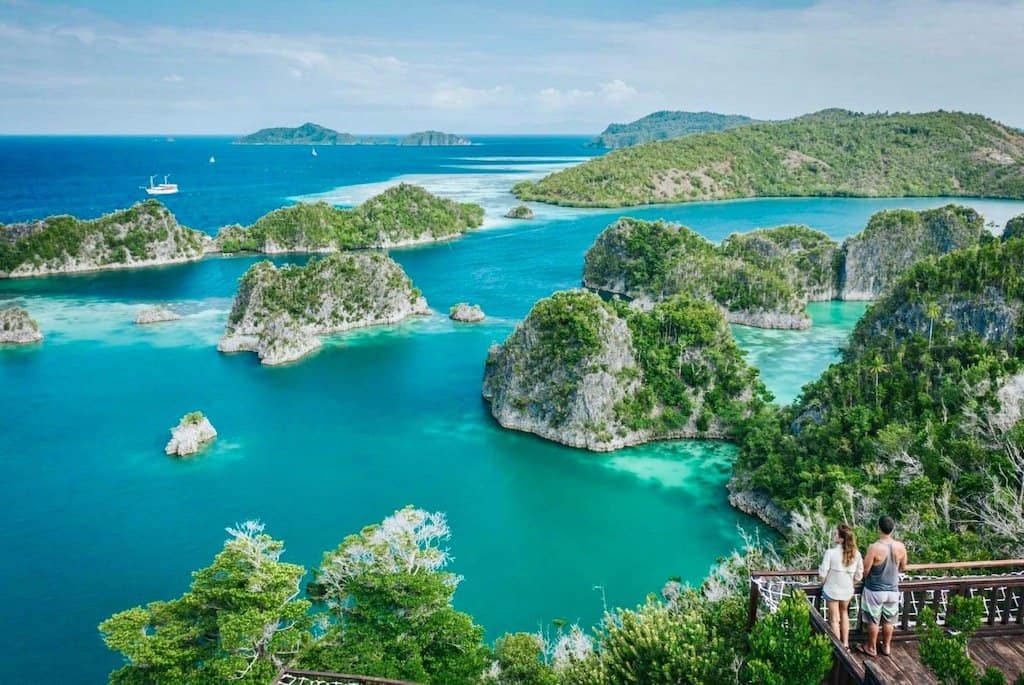 ---
10. Langkawi, Malaysia
Langkawi is a stunning archipelago of 104 islands off the west coast of Malaysia, with waterfalls, gorgeous sandy white beaches, turquoise waters and lush rainforest.
Langkawi is accessible by plane, directly from Kuala Lumpur, Singapore or Penang. Or the island can reached by ferry from Penang or Kuala Perlis on the mainland.
There are plenty of things to do on Langkawi's main island – firstly take a ride on one of the world's steepest cable cars to get an amazing panoramic view of the islands from the magnificent SkyBridge.
Also make sure you visit the Kilim Karst Geoforest Park, a beautiful UNESCO heritage site and home to mangroves, macaque monkeys and eagles.
If you like watersports head to one of Langkawi's many beaches to go parasailing or jet boating, or do an island hopping tour to enjoy some diving or snorkelling.
On top of that, the island is duty free, so take advantage of the shops and alcohol prices.
Langkawi has many luxury five star resorts, but the most famous one, the Ritz-Carlton hotel, is surrounded by lush tropical rainforest and has an infinity pool overlooking a private beach.
The best time to visit Langkawi is between November and March during dry season when the days are beautifully sunny and dry.
Submitted by Caroline Keyzor from CKTravels.com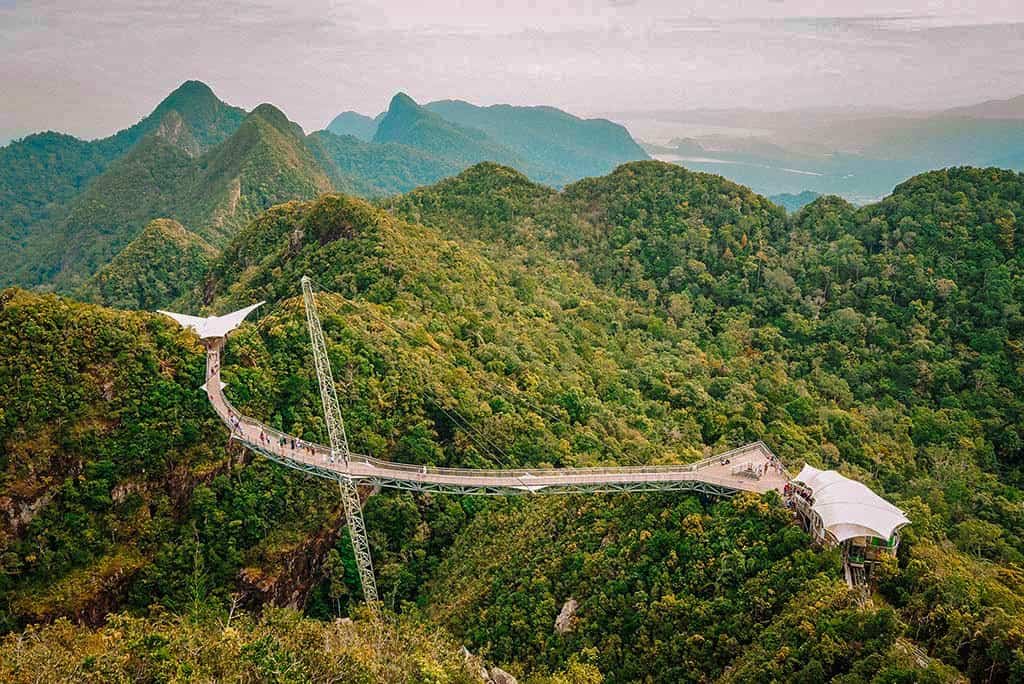 ---
11. Koh Tao, Thailand
It may be small but Koh Tao is one of the best Asian islands to visit. Located in the Gulf of Thailand, it is only accessible by ferry from the Thai mainland to Mae Haad Pier.
North of the dock is the famous beach road, lined with hostels and budget accommodations.
The road terminates in Sairee Beach, where you can continue along the crystal blue water filled with brightly coloured long-tail boats.
At the far end of the beach in a sheltered cove, you'll find the Palm Leaf Resort, a beautiful property that still gives you access to the restaurants and nightlife adjoining Sairee Beach.
Heading south of the dock, you quickly reach a pedestrian path that takes you to Tao Thong Villa, a resort built into the jungle with its own private bay.
Koh Tao is known for its mellow backpacking culture and extensive day hikes, but most of all, scuba diving.
More than 60 dives sites surround the incredible paradise.
Not only is the diving fabulous, but it's also one of the cheapest places in the world to get scuba certified.
Between the jungle retreats and the beauty above and below the water, there's no place quite like Koh Tao.
Submitted by Jenn and Ed Coleman from ColemanConcierge.com
---
12. Siargao, Philippines
With more than 7000 islands to choose from in the Philippines, the tear-shaped island of Siargao still stands out as one of the most beautiful islands in Asia.
Found in the southern part of the country, the island is no longer as off the beaten track as it used to be, pulling in more and more visitors to its beaches and pools.
Siargao has lots of scenic attractions – mainland beaches with surf breaks ideal for beginner and pro surfers, smaller islands with idyllic white-sand beaches, rivers, lagoons, and roads lined with coconut trees.
Siargao is also close to Bucas Grande, home to a beautiful protected park called Sohoton Cove.
The best time to visit Siargao is during the dry months (February to June). However for surfers, the best time is from September to November.
Most of the places to stay in Siargao are located in General Luna, the island's tourist hub.
Siargao Island is definitely one of the most beautiful islands in Asia.
It's a great option for a tropical vacation or destination for adventurous tourists, particularly those who like surfing or other activities such as island hopping and diving.
Submitted by Katherine Cortes from TaraLetsAnywhere.com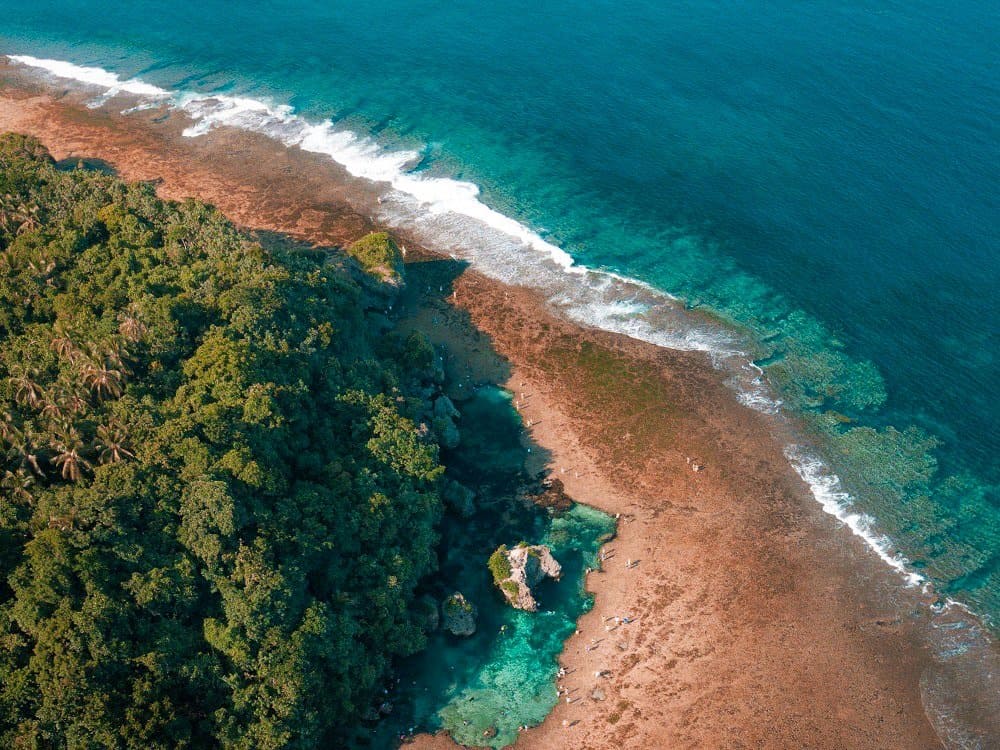 ---
13. Con Dao Islands, Vietnam
A spectacular hidden gem in Vietnam, Con Dao Islands, is an archipelago of 16 islands, the main one being Con Son Island.
Located in the south eastern part of the country, it is remote enough to not yet pull in the crowds.
Thus making it the perfect weekend getaway from the bustling cities of Hanoi and Ho Chi Minh City.
There are plenty of things to do in Con Dao Islands from relaxing on the pristine beaches, snorkelling in the crystal clear waters, to learning about Vietnam's history.
For 113 years, the Con Dao Islands held prisoners of war and revolutionary soldiers, and there are still several former prisons and a museum that you are able to visit.
Côn Đảo can be visited year round. While the rainy season is from April to October, it doesn't rain all day long so you can still enjoy outdoor activities during this time.
There are a variety of resorts and guesthouses to stay in Con Dao.
The most famous luxury resort is Six Senses Resort, where guests stay in villas with private beach access.
For more budget-friendly options, guesthouses start at $30 USD per day.
Submitted by Jackie Szeto and Justin Huynh from LifeOfDoing.com
---
14. Don Det, Laos
Unknown to most, the southern part of Laos is home to 4000 islands found in the middle of the Mekong River.
Known as the Si Phan Don, the islands are a sleepy hideaway and often overlooked by travellers to Laos.
The main island, Don Det, is perfect for relaxation, with no cars, few motorbikes and an abundance of hammocks to while away the day.
The best way to reach Don Det is by heading to the city of Pakse and catching a minibus or local songthaew to Nakasang, a small village that serves as the jumping-off point to Si Phan Don.
From Nakasang, take a short boat trip across the river to your final destination.
The islands of Don Det and Don Khon (another island in Si Phan Don that is connected by a bridge) are best explored by renting a bicycle.
A must see attraction is Li Phi Falls also known as Somphamit waterfalls.
Taking a cruise along the Mekong is also another great way to spend a day in Don Det, but this is advised from December to June during dry season before the monsoons set in.
Don Det has numerous riverside bungalows, but make sure you pick one on the "sunset" side of the island as Don Det has some of the best sunsets in the world!
Travel Tip: Try the pumpkin burger from Kea's Backpacker Bar, it's still a favourite two years on!
Submitted by Samantha from IntentionalDetours.com
---
15. Bohol, Philippines
Home to the spectacular Chocolate Hills and the smallest primate on earth, (the Philippine Tarsier), Bohol Island in the Philippines, is one of the most unique islands in Asia.
There are plenty of things to do in Bohol, from chasing waterfalls to visiting the colonial Spanish churches, breathtaking beaches, finding epic sunrise views and exploring the lush jungles.
For adventurous travellers, the island offers zip lining, quad biking, kayaking, rappelling and some of the best snorkelling and scuba diving in the Philippines.
Bohol can be reached by ferry from Cebu in three hours, or directly by plane from Manila or Cebu to Tagbilaran City.
The most pleasant time to visit Bohol is during dry season between November and April.
If you're looking for a jungle experience then Loboc River Resort is a great place to stay. Otherwise, there are plenty of accommodation choices around the beaches.
Submitted by Linn Haglund from BrainyBackpackers.com
---
16. Cham Islands, Vietnam
Cham Islands (also known as Cu Lao Cham) is a cluster of eight small islands, one of which is recognised by UNESCO as a Biosphere Reserve.
Located 15 km off the coast of Hoi An, the islands are easy to reach by public ferry in two hours or by private speedboat in only twenty minutes.
Cham Islands are perfect for outdoor adventurers and those looking to detox from the hustle and bustle of the big cities like Hanoi.
The archipelago is a paradise for divers and snorkelers, as the coastal waters are inhabited by unique marine life and shallow coral reefs.
If you want to admire the beautiful landscapes from above the water, take a ride in an authentic basket boat – a favourite activity in Vietnam and the Cham Islands.
Hon Lao, is the largest island in the Cham Islands and the only inhabited island (approx 3000 people).
While there are only a few accommodations listed online, there are more options to choose from on arrival.
The Cham Islands can be visited from March to August, when the weather is sunny, and all the islands activities can be enjoyed.
The rest of the year, the islands are not accessible by boat due to rain storms in the region.
Travel Tip: Combine your trip to the Cham Islands with the Hoi An Lantern Festival that takes place on the 14th of every month on the lunar calendar.
Submitted by Inna Nedostupenko from ExecutiveThrillseeker.com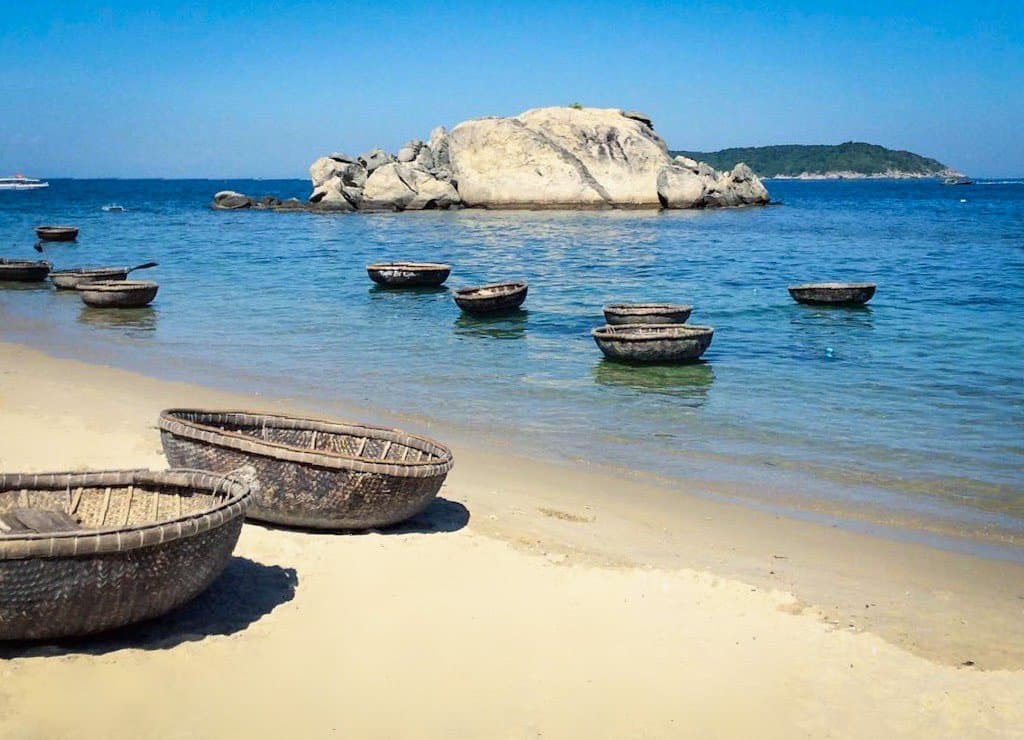 ---
17. Samosir Island, North Sumatra
Samosir is the king of all islands. It's a far cry from the typical coral-encrusted, palm-tree-lined island you might imagine – but no less beautiful, and a whole lot more unique.
Pulau Samosir is the largest island-within-an-island in the world.
The size of Singapore, this incredible destination is set inside the middle of the world's largest volcanic lake, Lake Toba.
The region is accessible – either by flying to nearby Silangit airport (about a 90-minute drive from the ferry port) or landing in Medan City, around three hours drive away.
Although Samosir is enormous, most tourists catch one of the vibrantly-coloured ferries across from Parapat on the mainland to the tiny peninsula of Tuk Tuk.
A popular party spot for backpackers in the '80s, Tuk Tuk is now refreshingly quiet. Endless guesthouses, restaurants and shops line the small village, yet it's seldom busy there.
There's plenty of western and local food, a fantastic pub with live music (Roy's Pub), and lots to see and do.
Plus, the views of the ever-changing lake and dynamic, soaring cliff-faces never get old!
Hire a scooter and head up the towering volcanic cliffs for out-of-this-world views; discover beautiful Batak culture at a museum or dance show; head out onto the lake, go for a hike, or hunt down one of the many waterfalls in the area.
Because of the elevation, it's cooler in Samosir Island than other areas of Sumatra, making for a deliciously refreshing break from the humid jungles further north.
Visit in dry season (May-September), and stay at the beautiful Tabo Cottages in Tuk Tuk.
Submitted by Carly from ExploringSumatra.com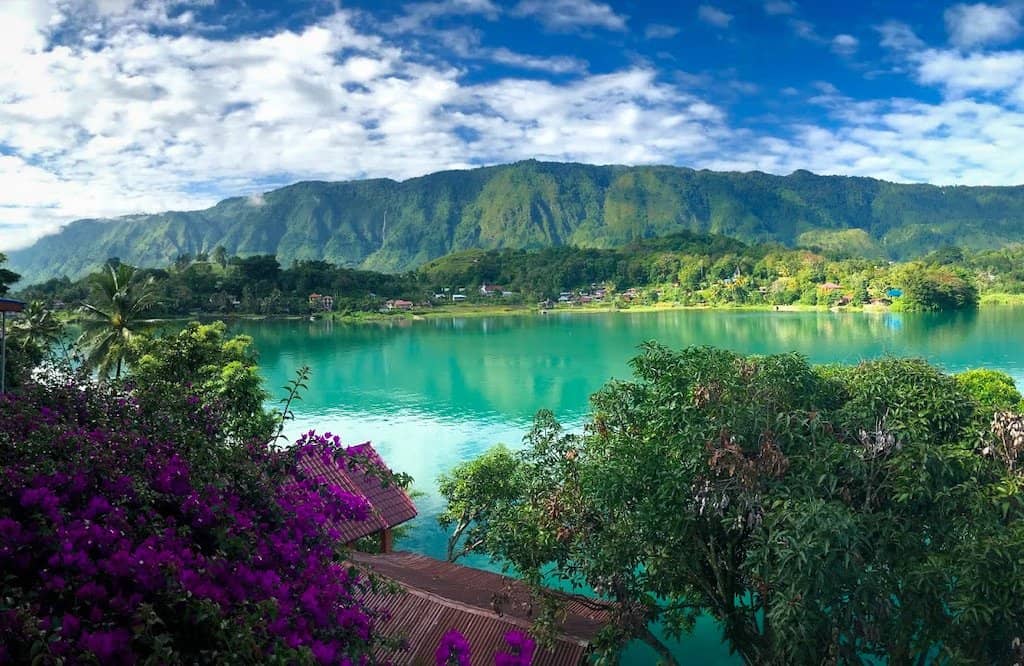 18. Nami Island, South Korea
Located in Chuncheon in South Korea, Nami Island has been popularised by the Korean drama, Winter Sonata.
An all year round destination, it's situated only an hour from Seoul, making it great for a day trip from the capital.
The island can be reached by ferry from its nearest location, Gapyeong.
However as Nami Island has no hotels, you'll need to stay on Gapyeong if you want to visit for longer.
The island is blessed with tall metasequioa trees, which are perfect for getting lost in.
They also make a beautiful backdrop for photos – so don't miss out on Metasequioa Lane, one of the best photography locations on Nami Island.
The best way to explore the island is on foot or by renting a bicycle, but watch out for the island's rabbits and ostriches!
The island has plenty of food options, make sure you grab a steamed red bean bun and take in the nature of one of the most beautiful islands in Asia.
Submitted by Arrianne Guzman from TravelHabeat.com
---
19. Koh Tonsay, Cambodia
Normally travellers in South East Asia flock to Cambodia in search of temples, monuments and monasteries.
This means the beaches of Cambodia are not nearly as famous as neighbouring countries, Thailand or Vietnam, but don't let that fool you.
There a plenty of islands within easy reach of Sihanoukville which are dotted with hundreds of miles of unspoilt beaches.
None more so than Koh Tonsay, aka Rabbit Island, which is only a 40 minute boat ride from the town of Kep.
The island is small and rustic, and can be walked around in less than an hour, but there are beautiful hidden beaches, hiking trails and a small fisherman's village that are all worth visiting.
Koh Tonsay is perfect for a few days respite, away from the crowds of mainland Cambodia.
Stay in a beachfront bungalow, and enjoy the fresh seafood, whilst experiencing one of the most beautiful islands in Asia.
Submitted by Mario from RestAndRecuperation.it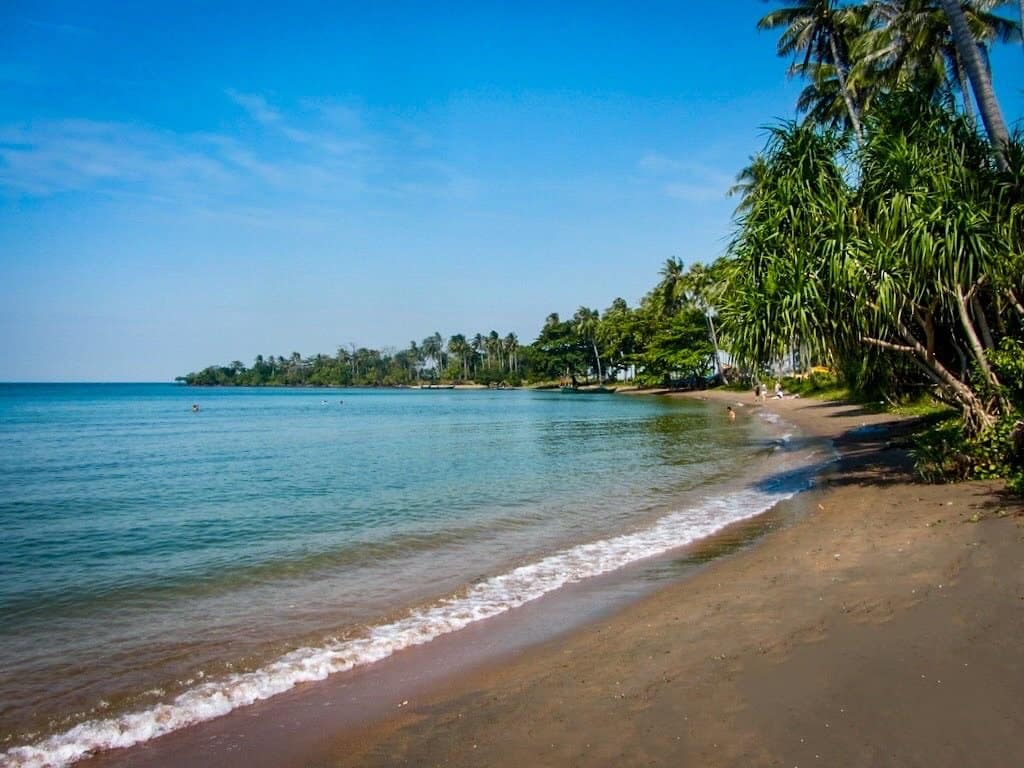 ---
20. Koh Lipe, Thailand
In a country packed with dozens of beautiful islands, the small but unique island of Koh Lipe stands out as one of the best.
Dubbed "The Maldives of Thailand", Koh Lipe is located off the beaten track, in the south of the country but still attracts plenty of visitors due to its stunning beaches, bright blue water and pure white sand.
There are plenty of great beaches on Koh Lipe but you can also take a day trip to neighbouring, Koh Adang for some diving or snorkelling.
The best time to visit Koh Lipe is from November until early May, however this is not the most affordable time to visit.
When choosing accommodation you can stay in the centre close to the bars and restaurants or choose a resort with beach views like Lipe Beach Resort.
Submitted by Jon Algie from JonIsTravelling.com
---
21. Penang, Malaysia
Penang Island in Malaysia is the perfect island getaway for city slickers who need to feel the energy of a city after spending the day relaxing on a white sandy beach.
The highlight of Penang is the UNESCO protected old town of Georgetown, a city that intermixes colonial and modern buildings.
Take a tour of Cheong Fatt Tze's famous Blue Mansion to learn some incredible history about the "Rockefeller of the East."
Better yet, book a stay for a night or two in the mansion – one of many great hotels in Penang to choose from.
Or, if prefer more modern architecture, head to the top of the Komtar Tower for beautiful views of Penang island in every direction.
In the evenings, be sure to check out Penang's incredible street food scene.
Hawker stalls all around the island dish out tasty and affordable dishes that you can eat while wandering the streets of Georgetown.
With its own international airport and ferry links to Thailand and peninsular Malaysia, Penang is easy to reach from the rest of Southeast Asia.
Visit between December and March for the best weather but whenever you go, you're sure to see why Penang is one of the most beautiful islands in Asia.
Submitted by Nate Hake from TravelLemming.com
---
22. Calaguas Islands, Philippines
Calaguas Islands in the Philippines is also known as the virgin island due to its undeveloped state.
It is one of the few islands in the Philippines that hasn't been overrun by tourism, in fact it is yet to have electricity or any accommodation (apart from a handful of beach huts). So bring a tent!
Close to the Caramoan Islands, Calaguas is located in the province of Camarines del Sur, a 10 hour drive from the capital Manila.
Following the drive to the town of Daet, a two hour boat trip is required to reach the island.
The best way to spend your time on Calaguas is by swimming, playing beach volleyball, and sandboarding.
The weather is consistently sunny most of the year with the exception of typhoon season from August to November.
The best way to visit the island is by joining a group tour, who will provide transport, tents, and food whilst on the island.
This is a better option than doing it yourself and is still very affordable.
Submitted by James and Anh from TeamAJTravels.com
---
23. Lombok Island, Indonesia
Lombok lies east of the popular island of Bali and is often dubbed the "unspoilt Bali".
In many ways this is true, as Lombok island offers beautiful scenery at much more affordable prices than its more famous neighbour.
For outdoor enthusiasts, climbing Mt. Rinjani should be at the top of your list of things to do. This active volcano is the third highest peak in Indonesia.
It's an arduous climb, but the summit rewards you with the most unusual sight. Inside the crater is Danau Segara Anak, a beautiful blue crater lake.
But that's not all! Poking out of the lake is the cone of Gunung Baru, a newer smaller volcano inside the larger volcano of Mt. Rinjani.
Views of the sunset from the top are incredible, and you can also see the peak of Mt. Agung, another volcano on the neighboring island of Bali.
North of the capital, Senggigi is a resort town on the west coast where most of the island's tourism infrastructure is found.
Coconut Boutique Resort, is a 15-minute drive from Senggigi beach, and a great choice in the are.
The capital, Matarem, is more of a working city than a tourist destination, but it does have some great markets and Southeast Asian street food.
Peak tourist season in Lombok is May to August.
However, it's worth considering a visit during the rainy season from October to April, as Lombok is much drier than Bali and rarely sees more than an hour or two of rain each day.
Submitted by Wendy Werneth of TheNomadicVegan.com
---
24. Sipadan Island, Malaysian Borneo
The small island of Sipadan in Borneo, Malaysia is one of the most beautiful islands in Asia.
This unique island was formed by living corals growing on top of an extinct undersea volcano, making for one of the richest marine habitats in the world.
So it's no surprise, the best things to do on Sipadan Island are to go diving or snorkeling.
While diving in Sipadan island you can expect to see dozens of giant green sea turtles, hawksbills, tornadoes of barracudas, parrotfish, sharks, and morays, all in one dive.
More than 3000 species of fish and hundreds of coral species have been classified in the waters surrounding Sipadan!
Sipadan Island has twelve dive sites and each has its own distinctive views of coral and aquatic life, but Barracuda point is the highlight.
At this site, you can see thousands of Barracudas in a tornado-like formation.
During interval stops, divers get the chance to relax and recharge on the beautiful beaches of Sipadan island.
Be sure to book your dive trip to Sipadan in advance, as permits are limited to 120 a day.
Submitted by Lora Pope from ExploreWithLora.com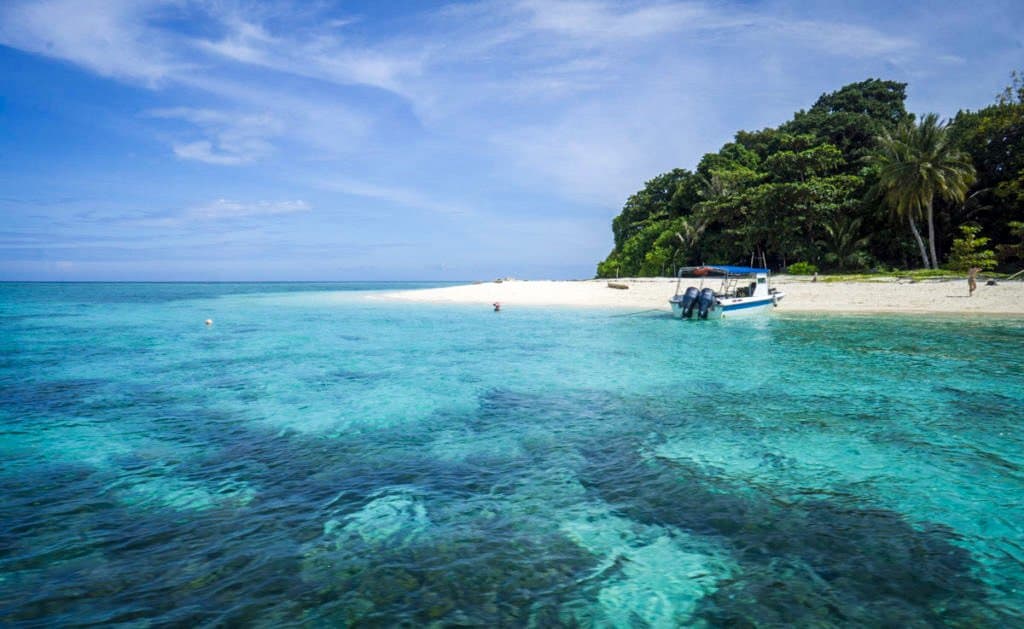 ---
25. Koh Rong, Cambodia
Koh Rong was for a long time a hidden gem island, known only by the locals and the few backpackers who ventured off the beaten path.
In recent years, tourism has caught up – since it truly is one of the most beautiful islands in the world.
Long Beach is one of its most known attractions, a seven kilometer long stretch of pristine white sand accompanied by turquoise waters.
It is located on the opposite side of the pier and can be reached by a jungle path or longtail-boat.
Visitors who take the jungle path can expect to hike 30-40 minutes compared to the 10 minute boat ride.
Other things to do on Koh Rong Island include snorkeling, sunbathing, jungle trekking, zip-lining, partying, relaxing or going on a boat tour.
Koh Rong can be reached by ferry or private transfer from Sihanoukville depending on where you are staying.
The most highly recommended resort is The Royal Sands Koh Rong.
The best time to visit Koh Rong is during the winter months from November to April, which typically have sunny days with little cloud and rain.
Submitted by Alex Waltner from SwedishNomad.com
26. Koh Samui, Thailand
Thailand's second largest island, lies in the Gulf of Thailand and is known for its coconut groves and palm fringed beaches.
Koh Samui has plenty to do, from beautiful beaches to Ang Thong National park and the Koh Samui elephant sanctuary.
There are tonnes of stunning places to stay but the calm oceanside location of Anahata resort on Lipa Noi beach is one of the most tranquil, and there are daily beachfront yoga classes that were some of my favourite memories in Koh Samui.
---
Save these 26 Beautiful Islands in Asia to Pinterest for later